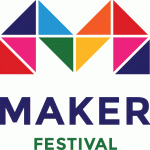 We had a great turnout and a lot of fun at the MMFTO last year, and we're excited to be back at the Maker Festival this summer! Come meet our group and join us for some folding action.
When: Aug 1 (9 AM – 5 PM) & Aug 2 (10 AM – 5 PM)
Where: Toronto Reference Library
Admission: Free (advance registration available)
More information about the Maker Festival on the official website.